Follow Us
Insights - The Retro Helmet for Today's Africa.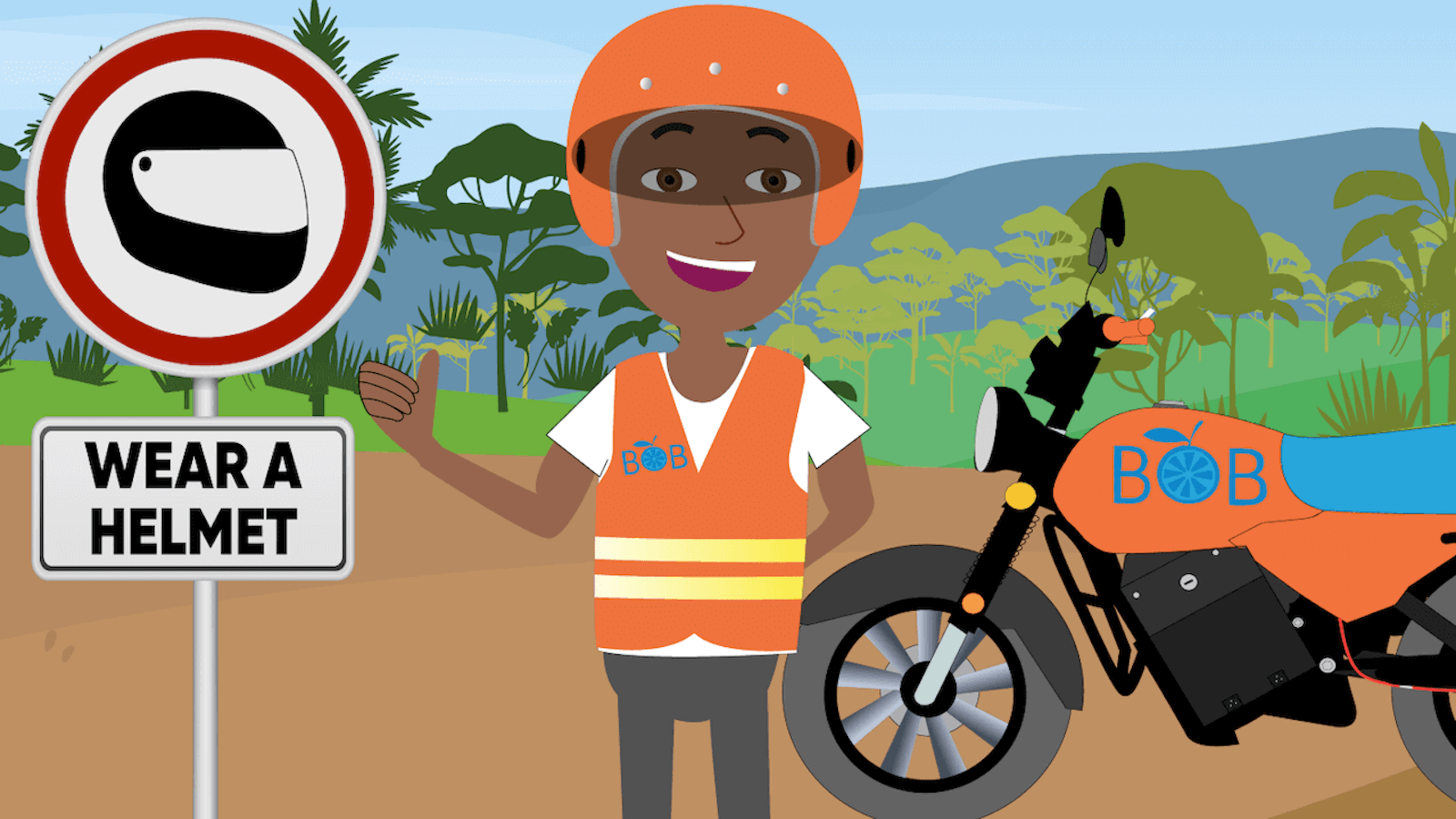 Bob Eco is committed to its Boda drivers' success — and safety. As such, every driver is equipped with top-of-the-line safety gear and is required to pass safety courses before getting on the road.
Bob Eco's safety gear icon is the Bob Eco Open-face Helmet. Its unique retro style honors old school culture and pays tribute to history. However, sporting the latest technology inside and out is retro in look only. Designed for maximum performance, the Bob Bob Eco Open-face Helmet reduces the risk of injury and protects what's most important.
According to the WHO, there are almost three times as many traffic deaths in Africa compared to Europe. With the focus on teaching about road safety and improving safety in mishaps, Bob Eco gives the special Bob helmets to all drivers as a part of their package deal.
Bob drivers predominantly use their vehicles to give people rides around towns or cities to get people from A to B; this is the way they make their living. Therefore Bob Eco provides all drivers with an extra helmet to promote passenger safety. The helmets are specially made for sharing, as Bob incorporated cleanliness into the concept to prevent the spread of lice, bacteria and dirt.
Helmet Specifications
Designed for the safety of both drivers and the planet, high-tech features and materials make the Bob Eco Open-face helmet both sturdy and eco-friendly:
a) ABS Shell: The Bob Eco Open-face helmet is injection-molded using high-strength ABS, or acrylonitrile butadiene styrene, a thermoplastic polymer known for its impact resistance, structural strength, and stiffness. Eco-friendly, ABS is easily recycled by melting and cooling, even without the degradation of its properties.
b) EPS Inner Lining: The interior of the Bob Eco Open-face helmet is lined with EPS, or expanded polystyrene. EPS is extremely sturdy and shock-absorbent, creating an additional impact resistance layer. Further, thanks to EPS' lightweight, thermally-conductive, and plush nature, this lining yields a comfortable experience for drivers. Non-toxic and recyclable, EPS is part of Bob Eco's commitment to eco-friendliness.
c) Micro-Metric Strap: Working like a large, reusable cable-tie with a toothed strap and ratchet holding mechanism, a micro-metric strap keeps the Bob Eco Open-face Helmet snugly in-place and in the optimal position on drivers' heads while they drive over unwieldy terrain, keeping drivers safe.

To see how our helmets are made, please see this video where you can see the production process.
Free Helmet Program
Road traffic deaths are now the eight leading cause of death for all age groups, and is the leading cause of death for children and young adults between age 5 and 29. A major contributor to this figure is the face that many drivers, especially in developing countries, do not know the rules of the road and are not familiar with traffic logic.
To make a difference, Bob Eco is distributing 500,000 of its helmets worldwide as part of its road safety campaign. Bob Eco has also set up the Bob Academy, a road training school for its drivers.
Before accessing their e-bikes, Bob Eco drivers are required to attend road safety courses and pass an exam. With both written and driven segments, this exam closely resembles the safety-standard exams administered by governments in developed nations. Bob Eco's safety education ensures that drivers know how to behave in traffic, and have all the necessary skills needed to get around in traffic safely.
Upon passing the exam, drivers gain access to their e-bikes and two helmets — one for them and one for passengers. Passengers must wear the helmet, and it can be mounted on the front of the motorcycle so it is convenient to transport and impossible to forget. Bob Eco's helmets protect what's most important, and Bob Eco's education campaign promotes responsible riding habits. Bob Eco is dedicated to keeping drivers and passengers safe.
Press Inquiries.
The Press-team is available to answer request for information,interviews, filmmaking request and contacts with BoB and its affiliates
Contact Press