Fueling a world of opportunity.
Own your future.
90% of businesses in Africa are small-sized enterprises yet they receive less than 10% of available credit. Bob Eco is filling this credit gap for motorcycle taxis in emerging markets, helping them own instead of rent their key productive assets in 24 months or less. Training, life and medical insurance, and high-quality safety gear are all included. - What we do is helping people help themselves.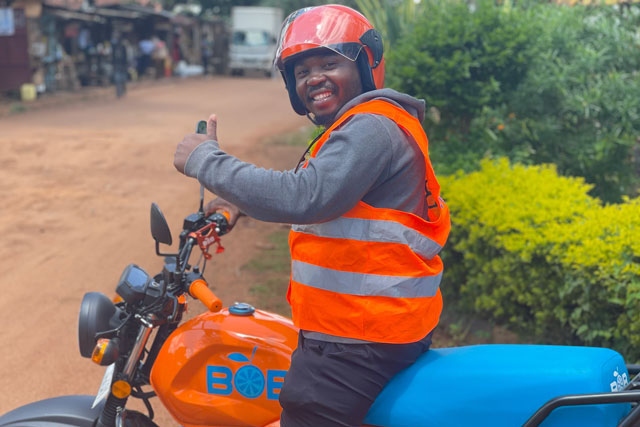 Access equals opportunity.
"I have a dream, that's letting my children go to school. I never had that opportunity. I believe I'll be close to this when I start my lease at Bob Eco." - Joseph Akello, Bupadhengo Branch, Uganda
Bob Eco offers people a chance.
"Bob has been there when I need it the most. My brother and I are leasing 2 motorcycles and we are now able to feed the entire family. From our Bob-profits we formalised a farm-to-market value chain where our entire family works for. " – Afia Mbabazi, Jinja Branch, Uganda
Trained Bob Riders.
Our community of Bob riders all receive extensive training to make them the safest and most professional drivers on the streets - Trained in road safety, first aid, bike maintenance and customer care.
Bob's call to action.
The fight against COVID-19 is far from over. As a leading community we have a responsibility to protect ourselves, our families, and our clients by following the expert and government guidelines – Wear your Bob mask covering your nose and mouth and avoid crowds and maintain a social distance from others.
Nothing drives people forward more than Bob Eco's community.
Having a sense of community unites us. Being a part of the Bob community makes all of us feel as though we are a part of something greater than ourselves. Our Bob community gives us opportunities to connect with people, to reach for our goals, and makes us feel safe and secure.
Get the latest Bob Eco news in your inbox.